Firefly Queen
From Elements the Game Wiki
Firefly Queen


TYPE
Creature
ELEMENT
Air
COST
6
ATK | HP
3 | 7
DESCRIPTION
: Firefly
Generate a firefly.
SKILL
Queen
PASSIVES
Airborne
RARITY
Common
BUY/SELL
102/70

Elite Queen



 

TYPE
Creature
ELEMENT
Air
COST
6
ATK | HP
3 | 7
DESCRIPTION
: Firefly
Generate an elite firefly.
SKILL
Queen
PASSIVES
Airborne
RARITY
Common (Upgraded)
BUY/SELL
Impossible/1162
Overview
Firefly Queen is one of the most recognized Air cards, due to its ability Firefly. For an initial six
quanta and two

quanta the following turn, Firefly Queen (often abbreviated as 'FFQ') will spawn a Firefly | Elite Firefly onto your field, increasing your damage potential and quanta production simultaneously.
General Use
Quick Facts:
Firefly Queen's (FFQ) ability, " Firefly", summons a Firefly creature onto your field (or Elite Firefly)
Although its stats and costs do not change upon upgrading the card, the minions that it spawns (Fireflies) do change (damage and vs. quanta generation)
Firefly Queen is the first creature-spawning creature implemented in game (another example being the Pharaoh). With a fairly convenient health pool (7 HP) and moderate attacking prowess (3 ATK), the Firefly Queen is a pretty durable creature that can take some damage from creature control while also providing minor damage. The Firefly ability is unique and cannot be obtained by mutations, making the FFQ a very original creature that is often protected or valued heavily in decks carrying them. Because of these details, the FFQ is perfect for swarming the opponent with attackers overtime, given enough quanta.
One thing to note is that while the stats and costs of the FFQ don't change between upgrades, is that the ability of generating a Firefly does. Regular Fireflies have 3 ATK and generate
quanta upon attacking (Bioluminesence), while Elite Fireflies from the Elite Queen have 4 ATK and generate
quanta instead (Incandescence). In this case, the quanta production stemming from both types creates different combos for the two, and one may value using the non-upped card over the other or vice versa.
Queens do have weaknesses though; although their HP is fairly high, Fireflies do not, and many opponent have dangerous CC cards that can delay or kill your FFQ. Cards such as Plague, Rain of Fire, or even Pandemonium will cripple an effective swarm strategy, nullifying both the damage and quanta creation with a single spell. Diamond Shield blocks 3 damage per attack, which will block all of the damage output from a regular FFQ and its Fireflies. Its swarming technique can still be considerably slowed even when upgraded. Most importantly, its cost of 6
to play can be hard to obtain compared to other creatures, which means denial tactics of either one's

or
can also make it impossible to generate Fireflies. The strategies can be countered in various ways (by using Bone Wall to reap the benefits of killed Fireflies, by Mutating Fireflies via a Fallen Druid to high-ATK creatures, etc.), but there's no clear-cut answer on how to stop these tactics from working.
Synergies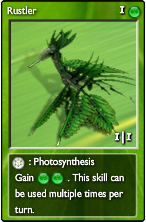 Life and Air have several synergies with each other upon using a FFQ. With the non-upgraded FFQ that produces
generating-Fireflies, Rustler | Leaf Dragon becomes an instant classic to refueling the quanta that the FFQ uses. As Rustlers convert 1
into 2

quanta (and it can be used multiple times), an FFQ can technically reproduce endless Fireflies as the Rustler assists in the quanta conversion process, making it a fairly simple combo once set up. Adrenaline can also be used on the Fireflies to deal 12 damage (cumulative, 4 attacks x 3 ATK) and produce quadruple the
quanta without any other buffs. In addition, Empathic Bond can provide unparalleled healing with Fireflies and Queens on the field, especially if you have multiple Bonds out.
One special tactic that the unupped Firefly Queen has over its upped counterpart is the synergy with Hope | Hope - as regular Fireflies produce
with their bioluminescence ability, they also build up considerable defense with the Hope shield. While slower at setting up, the damage dealt by the FFQ and its minions are much more significant compared to Rays of Light, making them more able to bypass damage-reducing shields.
Upgraded, the Elite Queen creates a new dynamic in providing synergy with Fire cards. The Elite Fireflies can help fuel the necessary quanta for cards such as Unstable Gas | Unstable Gas (that requires 1
to set off). Two Unstable Gas cards will also kill the Fireflies however, so this combination is based more precisely on timing. More importantly, while the spawning ability of the Elite Queen doesn't change in terms of cost, the minions can be a game-breaker with their +1 ATK bonus.
Other Cards With Synergy
Various rainbow Anti-FG decks include a FFQ with either a Lava Destroyer (a cheap Fire creature with the ability to grow quickly and provide massive damage), Fallen Elf (mutation spammer/creature enhancer), Otyugh (CC), and even Bone Wall. Fire cards that either scale with
quanta ( Fire Lance, Fahrenheit, etc.) or are cheap to use ( Explosion and Minor Phoenix). Because of the variety of cards that can go well with FFQ because of the quanta-synergies involved, players should be mindful and focused on what elements they want to emphasize with the FFQ, and what type of quanta they must provide for the deck to function.
Conclusion
No matter how one uses the FFQ (in either form), many people enjoy using FFQ in Rainbow Anti-FG decks to either provide extra damage, mutation or Bone Wall fodder, and even specialized quanta creation. Its resourcefulness is vital for the Air element, and as a whole, is one card that many players protect (or target first!) when it arrives onto the field.
Popular Deck
7ac 7ac 7ac 7ac 7ac 7ac 7an 7an 7an 7an 7an 7an 7ee 7ee 7ee 7ee 7mt 7mt 7mt 7mt 7mt 7mt 7n3 7n3 7n3 7n3 7nq 7nq 7nq 7nq 8pn
Other Decks