Pharaoh
From Elements the Game Wiki
Pharaoh


TYPE
Creature
ELEMENT
Time
COST
9
ATK | HP
4 | 9
DESCRIPTION
: Scarab
Generate a Scarab.
SKILL
Scarab
PASSIVES
RARITY
Rare
BUY/SELL
Impossible/265

Pharaoh



 

TYPE
Creature
ELEMENT
Time
COST
9
ATK | HP
4 | 9
DESCRIPTION
: Scarab
Generate an Elite Scarab.
SKILL
Scarab
PASSIVES
RARITY
Rare (Upgraded)
BUY/SELL
Impossible/1305
Artist's Comment
"The Pharaoh was among the first pieces of art I made by zanz' request, together with (of course) the Mummy. I tried to match the traditional Egyptian styles, but keep him different from a real human using the full facial mask. Zanzarino ended up adding a bunch more armor for the upped version, and I do say it turned out pretty awesome there!" -vrt
Overview
Pharaoh is one of the few cards which can produce other cards for use, and is the only rare creature capable of doing so. Its ability, Scarab, can summon a Scarab | Elite Scarab For 2
, which is the same cost as summoning the Scarab from the hand itself. Although looks nice, this card requires strategic thinking to maximize its potential.
General Use
Quick Facts:
Pharaoh's Ability costs 2 , which is the same cost as the [http://elementscommunity.org/wiki/Scarab Scarab
Elite Scarab] itself.
High cost and high ability cost makes it one of the underused cards. Although it has potential, the high cost limits its usage.
One of Pharaoh's strength is that it requires
for both its cost and its ability cost, making a mono deck centered around it easier. One can just use Mark of Gravity to fuel the Devour ability of the Scarabs. Sure, this requires a lot of
, but once the combo is rolling, it's almost unstoppable. The AI targetting priority places the Scarabs produced higher than the Pharaoh, meaning that CC will usually be wasted on the growing Scarabs as opposed to the Pharaoh backing them up.
Since Pharaoh is a rare card, not all people have access on it. One common twist on this strategy is to use Reverse Time | Reverse Time on Mummy | Elite Mummy to make it turn into Pharaoh. This requires 4

+ 2
| 3

+ 1
and 2 card slots as opposed to 9
and requires a duo, but can generally be done faster in rainbow. Another advantage is that the
produced can go purely to producing Scarabs (aside from Reverse Time) so in the end, Mummy + Reverse time can generally produce more Scarab.
One of the more obvious advantages using Scarab swarm tactic is that it has a build-in CC, in shape of Devour. For one
, Scarabs can kill any less HP creatures while also growing to kill bigger creatures. Because Scarab has a Swarm passive, more scarabs also means more HP for every Scarabs, making emptying opponent field easier even with just Mark of Gravity.
Synergies
In a good swarming deck, one can often finds himself excess Scarabs. As such, Catapult | Trebuchet is a good idea for using up those Scarabs. Assuming that the player can make more, sacrificing a few Scarabs to be thrown via Catapult can boost the damage output while not totally emptying the field. With multiple Scarabs on field, the Swarm passive will give them huge HP, making them a perfect candidate for Catapult Fodder. Best of all: it bypasses shields.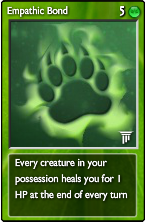 Empathic Bond | Feral Bond is a natural synergy with swarming tactic. As the Pharaoh keep pumping Scarabs, Empathic Bond's healing ability will only rise further. Since both cards are high on cost, making a stall deck centering around this synergy can be hard to break, provided that the players calculate the quanta balance accordingly.
Since Pharaoh is a
creature, Shard of Readiness | Shard of Readiness is also a good choice to be included in a Pharaoh deck. For 3 Time quanta, first use on Pharaoh will reduce its skill cost to zero, in addition of overcoming its summoning sickness and summoning 2 scarabs. It effectively pays for itself just by using it on a Pharaoh. (3
quanta converted to 2 Scarabs with 4
cost and free Pharaoh ability each turn) One of the lesser known trick is to chain the usage of Shard of Readiness on a Pharaoh, even if its skill cost is already zero. This is usually done during the beginning of the duel to summon 4-6 Scarabs in 2-3 turns which can overwhelm the opponent with Devour skill, Otyugh | Elite Otyugh.
Other Cards With Synergy
Generally, any buff spell will work well with the produced Scarabs. Plate Armor | Heavy Armor for initial swarming tactic to increase the durability of the first few scarabs, Rage Potion | Rage Elixir for when the Scarabs have accumulated some health or just to increase Pharaoh's attack, or even Acceleration | Overdrive or Shard Of Patience to convert the HP gain into an ever growing monster.
Conclusion
On a first glance, this card looks great. On the next glance however, it's quite a tricky card to use. In the hands of an expert, this card can be used to rush, stall, lockdown, almost anything possible. The potential is almost endless.
Popular Deck
5rg 5rg 5rg 5rg 5rg 5rg 5rg 5rg 5rg 5rg 5rg 5rg 5rg 5rg 5rg 5rg 5rg 5rg 5rg 5rg 5rj 5rj 5ro 5ro 5rs 5rs 5rs 5rs 5rs 5rs
Other Decks