Earthquake
From Elements the Game Wiki
Earthquake


TYPE
Spell
ELEMENT
Earth
COST
3
ATK | HP
-
DESCRIPTION
Destroy up to 3 pillars in the target cluster.
SKILL
PASSIVES
RARITY
Common
BUY/SELL
57/39

Quicksand



 

TYPE
Spell
ELEMENT
Earth
COST
2
ATK | HP
-
DESCRIPTION
Destroy up to 3 pillars in the target cluster.
SKILL
PASSIVES
RARITY
Common (Upgraded)
BUY/SELL
Impossible/1158
Overview
Earthquake is a powerful permanent control and quanta denial spell that instantly destroys up to three pillars (or pendulums). When used properly, Earthquake can completely shut down an opponent's deck, depriving the player of their quanta source and preventing them from playing any more cards.
General Use
Quick Facts:
Earthquake can destroy up to three pillars or pendulums in the targeted stack.
Earthquake only affects one stack, so it cannot destroy pillars or pendulums in two or more different stacks.
In the game, the same type of pillars/pendulums will always occupy a single permanent slot, to prevent the permanent field area from becoming overcrowded. For example, if a player has 15 Water Pillars, all of them would be gathered into a single stack. Targeting that pillar stack with Earthquake ('EQ' for short) will cause three pillars in that stack to be destroyed. The powerful aspect of Earthquake is that with one card, the caster can destroy up to three of the opponent's cards. Theoretically, 6 copies of Earthquake in a player's deck can destroy 18 of the enemy's pillars, and most decks don't even carry that many; decks built around this card can often strip the opponent of their quanta resources, and because of that, are generally unable to recover or progress.
Just like any other card in the game, Earthquake is not unstoppable. There are indeed ways to counter Earthquake, both based on skill and also based on other cards. The most obvious answer is using a deck without pillars, with all quanta generated by Nova, Immolation, or quanta-generating creatures (such as Dragonfly) and non-pillar/pendulum permanents (Soul Catcher). A more direct way is by the usage of Enchant Artifact on the pillar stack; one use of the card renders the entire stack invulnerable to destruction, so the caster won't have to worry about it being targeted by Earthquake. Alternatively, players can choose to have multiple stacks of pillars and pendulums generating the necessary quanta, since Earthquake can only target one stack at a time; regular/upgraded pillars and pendulums all count as different stacks, so splitting resources over several stacks can effectively mitigate the damage done by several Earthquake spells. Lastly, players that know when they're facing an Earthquake denial deck can simply hold back all pillars/pendulums, and play them one at a time, so the opposition can only destroy one pillar (or pendulum) per Earthquake.
Synergies
While powerful by itself, Earthquake can be absolutely devastating when combined with other cards. A very popular combination includes Reverse Time | Rewind added for control; after destroying the stack of pillars or permanents, the Time player then casts Reverse Time on one of the enemy's creatures, thus reducing their chance of playing it again with the limited quanta. Extending this tactic, Eternity can do this infinitely (as long as the opponent doesn't have PC). This strategy is frequently used by the False God Seism, whose deck focuses very heavily on quanta and creature denial.
Another powerful card to use alongside Earthquake are Devourers | Pests. While Earthquake stops quanta production at its source, Devourers then absorb the residual quanta from the opponent, while also providing

quanta to the user. Because Devourers can also Burrow, the excess

quanta generated from one's deck can be used to protect the Pests from CC and then later used to be spent on EQ. These two cards symbolize the denial-defensive tactics of the Earth-Darkness synergy, as many cards from both elements can suppress the opponent.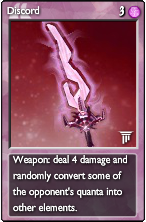 In some cases, Earthquake will simply be too slow to stop the foe's quanta accumulation, since multiple pillars/pendulums on the first turn will give the enemy a significant advantage throughout the game. Discord | Discord on the other hand, can hinder most non-rainbow decks by scrambling the major quanta pools. Against a duo deck, Discord may prevent a key card from being played by one of the vital elements, and EQ will follow up by destroying the respective stack to further delay such cards from being cast by the foe.
Other Cards With Synergy
Various other denial cards, such as Nightmare and Silence, can also enforce pillar-playing psychology onto the enemy in terms of how the opposing player will play their pillars afterward. Against Rainbow decks that specialize in a variety of quanta, Black Hole will often seal the deal (assuming that the other deck is relying heavily on Quantum Pillars). For players who wish to have an infinitely EQ supply, they may also consider using Trident instead, although the quanta costs associated with the weapon are sometimes tricky to use.
Conclusion
Out of all the PC cards, Earthquake stands out as a powerhouse to leaving a noticeable trail of destruction - hitting the roots of a deck (via pillars) is always a fantastic denial tactic. No matter how one uses Earthquake, it should be noted that careful pillar-pendulum playing and splitting are necessary tricks veterans utilize in order to provide stability against this dangerous spell.
Popular Deck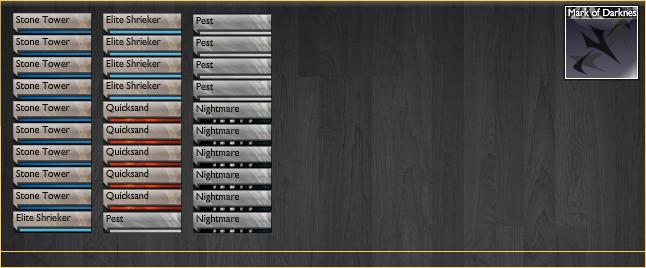 778 778 778 778 778 778 778 778 778 77h 77h 77h 77h 77h 77j 77j 77j 77j 77j 7t6 7t6 7t6 7t6 7t6 7th 7th 7th 7th 7th 7th 8pt
Other Decks