Discord
From Elements the Game Wiki
Discord


TYPE
Permanent
ELEMENT
Entropy
COST
3
ATK | HP
4 | 3 (when flying)
DESCRIPTION
Weapon: Deal 4 damage and randomly convert some of the opponent's quanta into other elements.
SKILL
Scramble
PASSIVES
RARITY
Rare
BUY/SELL
Impossible/147

Discord



 

TYPE
Permanent
ELEMENT
Entropy
COST
3
ATK | HP
6 | 3 (when flying)
DESCRIPTION
Weapon: Deal 6 damage and randomly convert some of the opponent's quanta into other elements.
SKILL
Scramble
PASSIVES
RARITY
Rare (Upgraded)
BUY/SELL
Impossible/1299
Overview
Discord (the rare weapon for Entropy) is both a fascinating and frustrating weapon to see on the field. For 3
quanta, Discord will not only deal damage to the opponent, but will also disrupt the opponent's quanta pools, redistributing quanta from one element to another.
General Use
Quick Facts:
Discord will scramble up to 9 random quanta from the opponent's pools, meaning that their quanta can be randomly placed into other elements
Discord's Scramble ability requires a direct hit in order for it to take effect
Generally has a lesser effect the more quanta the opponent has
Discord is an incredible weapon to use against various decks that have limited quanta generation techniques, and is especially effective against mono or duo decks (ones that require only 1-2 specific types of quanta to function correctly). Upon dealing damage to the opponent, Discord will potentially affect up to 9 random quanta and reallocate them to other elements, acting as a form of denial.
Mono and duo decks can be heavily interrupted in playing cards due to a lack of their main quanta resource, as Discord will often remove their most important quanta type. In rainbow decks (where all or most of the elements are used), especially ones that use Supernova, Discord has a less noticeable effect, as the quanta spread is generally unaffected by Discord (in a few cases, it might help the opponent). Regardless of whatever deck one goes up against, an early Discord on the battlefield is generally more effective than one in the later part of the game, as the quanta scrambling effect is weakened when the opponent has more quanta. Even against a mono deck, Discord's effect lessens the more it hits, since the chance increases that it will scramble quanta that it had scrambled before, instead of hitting the main element.
It's important to note that Discord does have counters aside from rainbow decks. Since it's a weapon, various shields (Bone Wall, Wings, etc.) can block the damage that Discord deals, preventing its Scrambling ability. Permanent control such as Deflagration is often brutal against Discord; since Deflagration only costs 3
(2
upped), trying to remove the entire opponent's
quanta to avoid that result is difficult and fairly unreliable. If you're using a mono-Entropy deck with Discord, having it stolen and used against you can be equally detrimental. Also, the Sanctuary card will protect a user's quanta pool and hand from being disrupted by the opponent; thus, Discord has no effect against players with a Sanctuary on their field.
In very rare situations, certain opponents may actually benefit from Discord to exchange quanta to give them access to off-element abilities of cards. Using a Discord against the False God, Seism, for example, may allow him to use the Pulverizer's "Shatter" ability against your permanents, which normally doesn't occur because he cannot generate
.
Synergies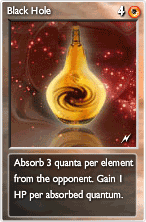 The best cards to combine with Discord in a deck are ones that also disrupt your opponent's quanta. Black Hole | Black Hole definitely carries the most synergy with Discord, because it removes scrambled quanta and keeps your opponent's main elemental quantum supply low, allowing Discord to continue its punishment. Given enough Black Holes, one could swing a battle due to the quanta destruction and healing provided from the alchemy spell ? having a Gravity Nymph alongside multiple flown Discords, for example, could shut your opponent out of playing any cards due to pure quanta denial.

Earthquake | Quicksand is another great card with Discord. Given the limited amount of pillars or pendulums in some decks, being able to both destroy multiple pillars as well as scrambling the leftover resources can aggravate many players. Of course, this strategy doesn't work as well if they use creatures or spells (Cremation or Firefly spam, for example) to generate the quanta they need.
Ironically, Deflagration | Explosion also can be a pivotal support card. Several shields and the card, Sanctuary, can often nullify the use of Discord completely by either negating the attack or the Scramble effect. Deflagration can easily remove such shields and permanents that can shut Discord down; due to its cheap cost, one can also splash in a few Nova cards to gain access to the
quanta necessary to play the permanent control.
Other Cards With Synergy
Devourers and Discords improve the synergy between Darkness and Entropy cards. While Discord scrambles, Devourers (or the upgraded Pests) will slowly absorb the remaining quanta, fueling you with

quanta while depriving the opponent of theirs. Although this strategy can be fairly risky to pull off (as Devourers are relatively frail and may not absorb the right quanta to deny your opponent), this card combo can help you play some of the most expensive cards revolving around

and
quanta, including the two alchemy cards, Liquid Shadow and Antimatter. Flying Weapon and Crusader can also be used in conjunction with Discord to amplify the Scrambling effect (the former allows one to play multiple Discords easier, while the latter provides higher damage and resilience).
Conclusion
Some players see it as an incredibly dangerous (but unstable) weapon, while others perceive it as a minor nuisance. With these issues and tips in mind, one must always be wary about what type of deck one faces with Discord, as the number of elements the deck uses (mono, duo, trio, rainbow, etc.) will generally determine its effectiveness.
Popular Deck
4vj 4vj 4vj 4vj 4vj 4vj 4vl 4vl 4vl 4vl 58o 58o 58o 58o 58o 590 590 590 590 590 590 595 595 595 595 5ic 5oi 5oi 5oi 5oi 8pj
Other Decks