Black Hole
From Elements the Game Wiki
Black Hole


TYPE
Spell
ELEMENT
Gravity
COST
4
ATK | HP
-
DESCRIPTION
Absorb 3 quanta per element from the opponent. Gain 1 HP per absorbed quantum.
SKILL
PASSIVES
RARITY
Common
BUY/SELL
58/40

Black Hole



 

TYPE
Spell
ELEMENT
Gravity
COST
3
ATK | HP
-
DESCRIPTION
Absorb 3 quanta per element from the opponent. Gain 1 HP per absorbed quantum.
SKILL
PASSIVES
RARITY
Common (Upgraded)
BUY/SELL
Impossible/1159
Overview
Black Hole is an alchemy card that's focused on denial. It will drain a maximum of 3 quanta from each of your opponent's quanta pools, healing you for the amount absorbed. This mechanic can absolutely destroy Rainbow decks, as it can absorb a major amount of their quanta while healing you up to a potential third of your health.
General Use
Quick Facts:
Black Hole absorbs a maximum of 3 quanta from each of your opponent's quanta pools.
Only heals the player based on the amount of quanta absorbed
Can heal up to (a maximum of) 36 HPs
Unlike the majority of the other alchemy cards, Black Hole is a non-refundable spell that doesn't require a permanent or creature target in order to work. If the opponent has no quanta in a certain element (say, having 0
quanta), then there's no effect on the pool. Its simple absorption can be devastating against many decks, as a form of both quanta denial and last minute healing, but its potential is mostly dependent on the opponent's quanta generation. Black Hole can instantly counter a Supernova spell (Supernova only generates 2 quanta of each element type), thus making it an effective counter towards many Rainbow Decks that emphasize those spells (it would heal up to 24 quanta from Supernova, healing 24 health points to the person who used Black Hole).
Although there are very few cards (read: Sanctuary) that can counter a Black Hole, careful card playing (such as playing numerous Supernova's followed by key cards in a deck) can make a Black Hole spell seem a waste of space or inept against smart opponents.
Synergies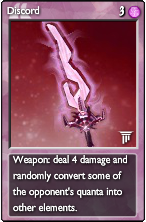 Although it is a relatively cheap card at 4 (or 3 upgraded)
, Black Hole tends to lose power against decks that have a focus of quanta generation in one or two elements (mono or duo-decks). Against these decks, one tactic is to scramble their quanta between the other elements using Discord | Discord, then using Black Hole to absorb the dispersed resource to further deny the opponent of playing creatures or cards - this strategy is especially effective if you have multiple Discords on the field by using the spell, Flying Weapon, on the Discord weapon in the permanent slot and replacing it with another.
Another tactic of denying quanta is to utilize Earthquake | Quicksand. As Earthquake destroys the opponent's pillars (generally the main source of quanta generation), Black Hole will take the leftover quanta, which can be devastating to recover from if the combination is used in the early section of a match multiple times. Both of these strategies may not work as well, however, if the opponent has certain shields or multiple pillar (and pendulum) stacks to avoid being denied of their quanta flow.
Devourers | Pests can also assist in the quanta denial in combination with Black Hole - playing a few early Pests can considerably slow down the opponent if they're using only one or two elements, and Black Hole can be played as necessary to keep the opponent's quanta as low as possible. In addition, Nightmare (another Darkness card) can be played on your Pests (which duplicates the Pests to your opponent's hand) that will clog up your opponent's hand and also deny of them their next draw. From this, decks that use

or

can synergize well with Black Hole, to assist with denial combinations.
Other Cards With Synergy
In addition to cards like Flying Weapon, other cheap denial cards such as Silence, Reverse Time, and to an extent, Trident, can provide useful quanta and creature denial when coupled with Black Hole. To fight against Sanctuary (which blocks the effects of Black Hole and any other quanta absorption mechanic), Deflagration can be added to take the troubling permanent out (and if they don't have Sanctuary, the Fire spell can be used on their defenses or leftover pillars). Ironically, one can use several Supernovas to help bust out non-Entropy cards in a rainbow deck that also uses Black Hole (and Discord) to help deny the opponent's quanta.
Conclusion
Because a player can only have 6 Black Hole spells in a deck, people who rely more on the quanta denial mechanic should hope to obtain a Gravity Nymph from the Oracle for a more consistent usage, assuming they have the quanta to repeatedly utilize it. Nonetheless, Black Hole is a great card to have against many Rush-Rainbow Decks (a popular choice in the T50 generally) and to obtain Elemental Mastery in a few cases.
Popular Deck
6qq 6qq 6qq 6qq 6qq 6u3 6u3 6u3 6u3 6u3 6u3 6u5 6u5 6u5 713 74f 74f 74f 77g 77g 7ai 7ai 7ai 7ai 7dq 7gm 7gm 7jr 7tf 80g 8pj
Other Decks