Devourer
From Elements the Game Wiki
Devourer


TYPE
Creature
ELEMENT
Darkness
COST
2
ATK | HP
0 | 2
DESCRIPTION
Absorb 1 quantum from your opponent per turn and return a to you.
: Burrow
SKILL
Burrow
PASSIVES
Devourer
RARITY
Common
BUY/SELL
56/38

Pest



 

TYPE
Creature
ELEMENT
Darkness
COST
2
ATK | HP
0 | 4
DESCRIPTION
Absorb 1 quantum from your opponent per turn and return a to you.
: Burrow
SKILL
Burrow
PASSIVES
Devourer
RARITY
Common (Upgraded)
BUY/SELL
Impossible/1158
Artist's Comment
"This fella was a bit tricky to draw; keeping something looking both small and menacing isn't an easy feat, I found. I think it came out pretty well for the Devourer/Pest though; and the 'conversion' really does translate well." -vrt
Overview
Devourer is one of the most iconic creatures of Darkness. This loathsome pest drains one quantum from the opponent, returning the quantum into one

for the owner. Its ability to steal quanta from the opponent fits perfectly into Darkness's theme of stealth and exploitation.
General Use
Quick Facts:
The Devourer has both an active ability Burrow, and a quanta-draining passive named 'Devourer'.
Devourer's passive absorbs 1 quantum from your opponent each turn.
If the absorption is successful, then Devourer generates 1 for you.
For 1 , the Devourer can also Burrow itself, rendering itself untargetable but halving its ATK.
Adrenaline only causes the Devourer passive ability to activate twice.
Stat-wise, Devourer doesn't look promising: a 2 HP creature with no attack makes it poor for offensive purposes. However, the Devourer only costs 2

to summon, which means that a player can often get one on the field on turn two or even the first turn; the low summoning cost also means that players may simply utilize Mark of Darkness in their decks, and use the Mark to fuel the Devourers alone. The upgraded Pest has 4 HP, improving its durability towards certain CC effects (such as Rain of Fire).
The Devourer is one of the few quanta-producing creatures in the game; and without a doubt is popular due to its manipulation of quanta advantage. Devourer takes away one quantum from the opponent, producing simultaneously one Darkness quantum for the owner. Unlike other quanta-producing creatures, the Devourer is not simply a "pillar"; with its denial capabilities, it is more useful than any generic quanta generator. What's more, with one single

quantum, players can render Devourer completely invulnerable, via its Burrow ability; no other quanta-producing creature is capable of this. Devourer has an ATK of zero, which means that it would not attack and trigger enemy shield effects such as Fire Shield (unless Nightfall is in play). Simply put, the Devourer is a very useful quanta generator and denial tactic. Because of that, this creature is the foundation of quantum denial, a popular strategy that denies your opponent of his or her quanta, and thus stops him or her from playing any cards.
It's important to note that the Devourer's quanta draining ability only works if the opponent actually has quanta. If the other player has zero quanta, Devourer will not produce

for its owner because there is no quanta to absorb and convert. Likewise, a single Sanctuary can prevent the Devourers from draining quanta from the enemy, so permanent control such as Steal might be needed in order for the passive to work.
In addition, buffing the Devourer with other cards such as Blessing or Chaos Power and then burrowing it, will halve its ATK as normal. But if a Nightfall is on the field, it will give Devourer a +1 ATK bonus regardless of whether it's burrowed or not; the same applies for Eclipse. For example, burrowing a Devourer, playing Eclipse, and then unburrowing it would still cause its ATK to equal 2.
Synergies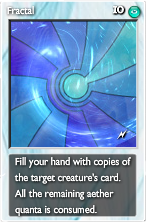 The Devourer, while useful on its own, can be very formidable when used alongside other cards, such as Fractal. A single Devourer by itself may not accomplish much, because 1 quantum loss from the opponent will usually not stop the enemy from playing cards. However, everything is more powerful in greater numbers. Fractal can create a plethora of Devourers in one's hand, enabling players to summon far more than six Devourers onto the battlefield. Fractal Devourers can be a very deadly strategy, as an entire field of Devourers can completely drain the opponent of all their quanta, preventing the play of almost all cards. The massive accumulation of

quantum can also allow players to use the excess quanta for other cards.
Earthquake is another card that works well with Devourer; players who enjoy using both

and

in the same deck can easily see the denial tactics that can emerge by combining the Earth and Darkness elements, while Devourers absorb what leftover quanta your opponent has. Devourers use

to burrow, which only strengthens the synergy between Darkness and Earth. While Earthquake will knock over stacks of pillars or pendulums over, the Devourer will then suck up the remaining quanta from the enemy's pools, creating an effective shortage of quanta generation and supply for the opposing player. Given the excess

quanta can also be used to protect the Devourers if there are no pendulums left in play, this strategy works fairly well against decks that require quanta from a very specific stack of towers of pendulums.
While the draining strategies of the Devourer are suffice enough to cripple an enemy, the ability to drain one's life complements the Devourer's skills as well. Drain Life | Siphon Life will become stronger with higher amounts of

quanta, often providing double-digit HP swings for both players. Thus, Pests provide the quanta, while Siphon Life recovers the owner's health. The False God, Decay, uses this combination extensively in order to provide swift OHKOs to the player. Of course, players should be cautious of reflective shields that may negate the use of Drain life.
Other Cards With Synergy
Because of the massive

quanta generation players can have, various expensive Darkness cards, such as the Black Dragon or the Vampire can be played to create a diverse army of hard-hitting/life-stealing attackers. Nightfall again can grant the Devourers additional health and ATK in order to improve offensive prowess. Even Steal can be used to take out troublesome permanents or pillars to help out with the denial tactics of the Devourer.
In some cases, Mitosis can act as a better alternative to Fractal in terms of quanta locking the opponent. The Devourer's cheap cost in both forms can often be replenished with a single Mitosis-affected one in a few turns. Likewise, applying Butterfly Effect can create a truly dangerous critter capable of wiping out vital shields and weaponry while also taking quanta at the same time.
Conclusion
Despite being frail to a variety of damaging CC effects, the Devourer is a special Darkness creature capable of shutting down the enemy fairly quickly if brought to the field early enough. Its 1:1 ratio of quanta denial/creation to the owner, alongside a protective active ability makes the Devourer a staple of many Darkness-based decks.
Popular Deck
7t4 7t4 7t4 7t4 7t6 7t6 7t6 7t6 7t6 7t6 7t8 7t9 7t9 7t9 7ta 7ta 7tb 7tc 7tc 7tc 7td 7td 7td 7td 7td 7td 7um 7um 7um 7um 8pt
Other Decks