Plague
From Elements the Game Wiki
Plague


TYPE
Spell
ELEMENT
Death
COST
4
ATK | HP
-
DESCRIPTION
Infect every enemy creature. Removes invisibility.
SKILL
PASSIVES
RARITY
Common
BUY/SELL
58/40

Improved Plague



 

TYPE
Spell
ELEMENT
Death
COST
2
ATK | HP
-
DESCRIPTION
Infect every enemy creature. Removes invisibility.
SKILL
PASSIVES
RARITY
Common (Upgraded)
BUY/SELL
Impossible/1158
Overview
Plague is an area of effect spell that poisons all targettable opponent creatures. Unlike other AoE spells like Pandemonium, Thunderstorm, and Rain of Fire, Plague's damage output is done over time instead of instantly.
General Use
Quick Facts:
Poisons all opponent creatures that can be targetted
Removes opponent's Cloak if they have one in play
While at a glance, one poison counter to all the opponent's creatures seems incredibly slow and weak, Plague's deadliness is not to be underestimated. Whereas Rain of Fire does 3 damage to each creature and Pandemonium can do at most 5, Plague does 1 damage per turn indefinitely. This makes Plague one of the more deadly AoE spells if the game drags on, able to kill every creature provided they are not healed. Besides Virus and Aflatoxin (and by extension, Grey Nymph), Plague is the only direct CC available to the element of

. Careful planned usage of this card allows Death elementals to both cripple and kill opposing creatures, as well as allow benefits of death effects to happen.
Synergies
Skull Shield's effect has a greater likelihood of happening when opposing creatures' HP are low, and Plague is a perfect card for softening them up. Together, Skull Shield and Plague provide a relatively cheap combination in mono

that allows a user to hasten the death of enemy creatures. In addition to using Plague as a softener, Plague can also be used to get rid of all the Skeletons that might appear because of the deaths, allowing a safeguard in case the Skull Shield is stolen or destroyed, or just for massive death effects to take place.
Plague is a powerful control card, but unfortunately, it takes time to kill creatures. Time is exactly what is needed and gotten from Sundial. Unupgraded, users can splash Sundials with a
mark, but upgraded, these cards become free, allowing them to be fit into death cards without serious quanta imbalances. The use of Sundial and Plague together create a very powerful creature stop, stopping opposing creatures from attacking while also letting them die via infection. Sundial is best used if the user has no creatures of his or her own, like a Poison Sundial deck. Bone Wall is another great card to consider with Sundial, able to stall creatures from breaking down precious bone charges and granting that extra turn for infected creatures to die and add to the growing shield.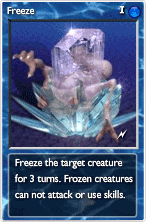 Potentially even more evil than Sundial, casting Freeze on a creature immobilizes it for 3 (4 if upped) turns, during which time poison still affects it. Stopping a creature from acting for 3 (4 if upped) turns along with dealing 3|4 damage to a creature is very useful, especially considering how cheap Freeze is and the strong synergy between

and

. This defensive combo will likely see usage alongside Chrysaora or Poison, slowing and killing attackers while slowly killing with Poison or Arsenic. Arctic Squid can also be used as a reusable substitute, although that requires more

usage.
Other Cards With Synergy
Fire Shield, Thorn Carapace, Procrastination, Ice Shield, Bone Wall are all shields that benefit from a slow poison on the enemy creatures. Fire Shield and Thorn Carapace kill the enemies faster, and Procrastination and Ice Shield act like Sundials or Freezes. Bone Wall also gets plenty of benefits from death effects. Plague also can be used when paired up with Aflatoxin, able to kill 23 creatures instantly with a mono deck. Finally, the weakening of enemy creatures allows cards like Maxwells Demon and Otyugh or CC cards like Owls Eye to act as moppers to clean up the survivors.
Conclusion
A rather under-appreciated AoE card, Plague nonetheless has its merits. Plague is best used in more slow paced games where stall and control is more emphasized than speed and rush. One should not underestimate its cheap 2

cost when upgraded, or how it can cripple decks relying on swarming cheap fragile creatures.
Popular Deck
Blinded by the Poisonous Light
710 710 710 710 710 714 714 714 717 717 717 719 719 719 719 719 71b 71b 71b 71c 71c 71f 71f 71f 71f 7jp 7jp 7jp 7jp 7jp 7th 7th 7th 7th 7th 8pt
Other Decks