Horned Frog
From Elements the Game Wiki
Horned Frog


TYPE
Creature
ELEMENT
Life
COST
2
ATK | HP
3 | 3
DESCRIPTION
SKILL
PASSIVES
RARITY
Common
BUY/SELL
26/18

Giant Frog



 

TYPE
Creature
ELEMENT
Life
COST
2
ATK | HP
5 | 3
DESCRIPTION
SKILL
PASSIVES
RARITY
Common (Upgraded)
BUY/SELL
Impossible/1158
Overview
Despite a wide assortment of creatures to choose from, Horned Frog is one of the most iconic Life creatures due to its coveted ATK-cost ratio and overall offensive prowess.
General Use
Quick Facts:
Both versions cost only 2 quanta for both the non-upped and upgraded versions.
An adrenalined Horned Frog deals 1 more point of damage than an andrealined Giant Frog.
A Frog's HP makes it fairly vulnerable to creature control.
For 2

quanta, the Horned Frog (or Giant Frog) plays its part as one of the basic, low-cost, high-damage dealers within the Life element. At first glance, it may seem overshadowed by the slightly more durable Cockatrice, but further investigation into PvP and/or PvE grinding shows that this is not always the case.
Players may initially assume that because of its low HP, Horned Frog is a fairly frail creature highly susceptible to creature control (a Rain of Fire can take out an army of frogs). However, not all enemy decks are necessarily equipped with such creature control, and thus, Frog armies can usually deal decent damage to the opponent before dealing with shields or harmful spells. In addition, its cheap cost makes it viable in a variety of decks that primarily focus or partially splash

quanta. Thus, its cost (cheaper than Cockatrice) expands its access to different deck archetypes.
Synergies
Combined with Adrenaline | Epinephrine, Horned Frogs can be quite deadly. Seldom should a frog go without Adrenaline, as it will essentially turn the amphibian into a dragon for half the usual quanta cost. With Adrenaline, the Horned Frog causes more damage (12 damage unupped, 11 damage upgraded) than the Emerald Dragon for only 5-6

quanta (while the Emerald Dragon costs 10). However, Adrenaline also gives the Horned Frog notable weaknesses. Because it causes the Frog to attack multiple times per turn, CC cards like Fire Buckler and Plague can destroy it. Conversely, Adrenaline can also help Frogs escape CC effects such as Freeze and Delay, and even chip away the various layers of a Bone Wall shield.
Despite its lack of health, the Horned Frog is a key card in most mono-Life Rush decks. In such decks, the Cockatrice | Elite Cockatrice can also serve alongside it for slightly more durable (and relatively quick) damage. In upgraded formats, both creatures can deal 5 damage upon attacking, making single-target CC futile against an army of fast attackers.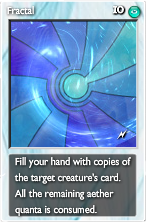 Additionally, its cheap cost to summon (2

quanta for both unupped and upped versions) allows it to be a great choice for creature-spam decks. Fractal | Fractal is an excellent card to use with Horned Frogs, as the critters can be played immediately in a turn given an abundance of

quanta. Swarming the opponent with multiple Frogs will put the enemy on the defensive if they aren't paying attention, and if they don't have a way to mitigate or stop the damage outright, the Frogs can soften act as the killing blow.
The Horned Frog do not have a skill, if do you use Mitosis you can create a Horned Frog every turn using 2

Other Cards With Synergy
Frogs also work well with other Life cards, such as Emerald Dragons. The Dragons are able to take the place of an Adrenaline-affected Horned Frog when faced with high amounts of creature control. Mitosis can provide a slower, but equally troublesome creature generator for decks that may lack CC, especially if Empathic Bond is on the field to provide massive healing. Other defensive-oriented Life cards, such as Druidic Staff and Heal, compensate with healing over damage mitigation. Even in rainbow decks, Giant Frogs can provide a great source of damage (it only takes one Supernova to summon a Giant Frog onto the field).
Conclusion
Symbolizing the power of speed, Horned Frog and Giant Frog are indispensable when it comes down to the fast-damage in the Life element. Efficiency-wise, Frogs are one of the most used Life creatures and pack a decent punch for any

-using player.
Popular Deck
Life Rush - (aka Ultimate Speed EM)
6rk 6rk 7ac 7ac 7ac 7ac 7ac 7ae 7ae 7ae 7ae 7ae 7ae 7ag 7ag 7ag 7ag 7ag 7ag 7ai 7ai 7ai 7ai 7ai 7ai 7bu 7bu 7bu 7bu 7bu 8pn
Other Decks